Miller Electric, one of the top names in welding equipment, recently redesigned the already extremely popular Millermatic 211 to improve portability and utility of the welder. Many didn't think much change was needed, but the improvements to the already undeniable machine were nothing short of innovative. We notice one among the tools and equipment in almost every shop around, and it gets great firsthand reviews from many fabricators we know personally.
While it's a clear choice among gearheads, wanted to check one out for ourselves here at Mopar Connection to see what makes it such an exceptional MIG welder in its price range. Miller sent us one to check out so we could see what it's all about, and the changes are very notable, while we do agree that the Millermatic 211 MIG inverter welder was already pretty great. Not to spoil anything, but the more we use it, the more we love it, and here's why you will too. 
Positioned in the Right Spot
Miller first showed off the redesigned welder, as well as other welders and welding accessories they offer, at the 2016 SEMA show that's held yearly in Las Vegas. We got our first chance to handle the machine at the event, so we already had a good idea that it was lighter, more portable, and used upgraded inverter technology before we got our hands on one for our projects and general use around the garage. 
The listed price for the welder itself is $1,199, but if you want more portability, you can get the welder plus a cart for $1,355. You can also take advantage of a $50 rebate offer, which applies to the welder in either package, and you can put that towards a few more spools of wire. Due to the price point, the Millermatic 211 isn't quite a consumer grade machine, but it's only positioned slightly above (price wise) starter welders, and packs a ton of features that would align its utility with professional welders, without the massive cost of pro rigs. 
Miller sent us the version with the cart, because it was the best option for our use, and this is probably true for anyone working in a shop. While it's only 38-pounds, the cart has really come in handy already, so the added cost is worth it. Miller also sent us some safety gear that includes a Digital Infinity Helmet/hood, a welding coat, and a pair of Miller gloves. So let's talk about the welder and how to get it setup. 
Features Beyond Its Class
The Millermatic 211 MIG inverter welder is not branded as a welder for automotive use, but it has made an enormous impression with auto builders around the world, and the casual DIY garage mechanic alike. Once you start to understand how this machine was put together, it's hard to believe that it was not built with the auto shop in mind. Even the recommended uses, according to Miller, point straight towards what a gearhead would do with a welder. 
According to Miller, the Millermatic 211 is recommended for:
DIY and Home Hobbyists
Farm and Ranch Use
Creation of Metal Art and Sculptures

 

Automotive Racing, Customization, and Restoration

 
Take it from us, this welder is definitely for the car guys. So before the unboxing and assembly, let's talk abut the features you're gonna love if you need a welder to work on cars. The Advanced Auto-Set technology is one feature that adds a lot of utility to the design — it includes five different wire/gas combo options so you can set the exact parameters you need for the task at hand. A blue LED light comes on when Auto-Set is activated, so you know when you start your welds. 
Fan-on-Demand is a cooling technology that only activates the cooling system when cooling is needed. This cuts back on that annoying constant cooling sound that comes out of many welders, and it also reduces the energy used from the unit. When the airflow is blocked, or the machine has exceeded cycle duty, a thermal protection overload protection system can save the internals of the machine as it shuts down the welder and activates an indicator light if the airflow is impeded or cycle duty is exceed — the light goes off when its cooled.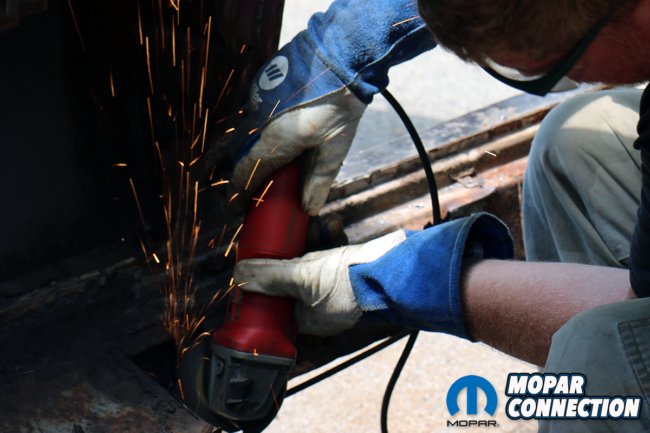 Unboxing the Millermatic 211
When our shipment from Miller arrived, we didn't waste any time getting it all unpacked. The welder itself is so light, very much noticeably lighter than other rigs we've used, and it was easy to tell as soon as we got it out of the box. It's only 38-pounds, which is not just lightweight for its class, it's super lightweight for the features offered. The welder itself is also a really sharp looking unit, which has no impact on performance, of course, but it's still something to appreciate about the Miller welders. Once we got everything unpacked, we took inventory. 
What's included:
Millermatic 211 inverter welder
6.5-foot

 

power cord and two MVP™ adapter plugs for 120V and 240V
10-foot M-100 MIG gun and cable assembly
10-foot work cable and clamp
Argon and AR/CO2 mix regulator/flow gauge with hose
Spool of Hobart 0.8 mm solid wire
Two contact tips for 0.8 mm wire
Quick Select drive roll for 0.6 mm or 0.8/0.9 mm solid wire, and 0.8/0.9 mm flux cored wire
Material thickness gauge #229895
Hook-and-loop cord wraps
It came with everything to start welding right away, so it was time to set it up and get to work. To make setting the welder itself up a little easier, we decided to put the cart together first so there would be somewhere to setup while hooking up the regulator hose, and so on. 
Putting together the cart is simple and straightforward, requiring only some basic hardware and hand tools. Following the instructions, the cart was assembled in just a few minutes, and it's super sturdy, much more than you would expect. The cart rolls with total ease across the shop floor too. 
The next step is getting the regulator setup at the tank, and the hose that connects it to the welder. This regulator that was sent from Miller is pretty cool since it reads in both cubic feet per hour and liters per minute, which isn't a common readout.  The two valves that give readout on the regulator show how much gas is in the tank and how much gas is actually leaving the tank. 
Millers M-100 10-foot MIG gun and cable assembly is made for efficiency and ease of use when you put it to work. Included with the gun are two contact tips, and the assembly operates with their Smooth-Start technology that promote a smooth and splatter-free start. 
The angled cast aluminum drive system is a newly overhauled feature that has a carefully calibrated tension knob to provide an uninterrupted feed of wire. The wire feed speed ranges from 1.5 m/min – 15.2 m/min. This system can be upgraded to a 15-foot setup using this drive system, and you'll still get a constant wire feed. 
Two different adapter plugs, a 120V and a 240V, are included, so pick the one you need and connect the cord. The 120V plug has a rated output of 115 A at 19.8 VDC, 20% duty cycle, while the 240V plug has a rated output of 150 A at 21.5 VDC, 40% duty cycle. 
Now that everything is setup, it's time to throw on the safety gear and try it out. The Digital Infinity welding helmet is one of their top rated helmets, and it's clear so see why, seriously, since it is made to optimize your viewing area for the best visibility. This helmet has high-def optics and four operating modes, and the largest viewing area in the industry. The black-and-blue welding coat they sent along is flame resistant and provides a lot of general protection. Finally, the welding gloves we got to try out are great for dexterity and protection. 
After using the welder for a few hours during the initial fire-up and several times afterwards, we can conclude that the Millermatic 211 welder has more than earned its praise from automotive builders. It's a great welder for beginners to experts, as it's both easy to use and has some pretty advanced features that makes more complex jobs a lot easier to tackle. Now it's time to put it to work to knock out some projects for upcoming Mopar Connection tech features, stay tuned!