Ever since Mopar Connection Magazine started back in 2015, one of our favorite things has always been seeing our reader's rides. Whether it is by email or reader's comments on our social media posts, we absolutely love seeing what everyone owns and loves. We love seeing what you are passionate about! After all, it's all of you as readers that keep us going every day, publishing quality Mopar content that you love to read and we truly thank you all for that!
Every month, we get numerous submissions for car features and unfortunately we just can't publish them all but we really want to share everyone's vehicles with our fellow readers. With that in mind, we decided to start a monthly Reader's Ride section in the magazine and are very proud to showcase the first one!
Jim and Adam Feist's 1971 Plymouth 'Cuda: Jim and his son Adam restored this beautiful '71 'Cuda as a true father-son project. The pair found the car on Craigslist and traded it for Adam's 1999 Ford Ranger! After a number of year's restoring it, the project resulted in this resto-mod 'Cuda they affectionally call "Max".
Under the hood is a Gen III 6.1L SRT8 Hemi engine backed by a TK0 5-speed manual transmission. Other modifications include a Dakota Digital gauge cluster, Digitails sequential rear LED tail lights, Vintage Air air conditioning, QA1 upper control arms and front adjustable struts, front disc brakes with hydro-boost power assist, and custom two tone paint designed by Jim and Adam. The wheels are Foose Legends (17×8 with 235/50 Continentals up front and 17×9 with Nitto NT555 255/50 on the rear.)
Jerry Lange's 2016 Dodge Charger SRT Hellcat: When it comes to Hi-Impact Mopar colors, you can never go wrong with Plum Crazy Purple! Jerry's Hellcat is just one of 11 produced for Canada in Plum Crazy. It's absolutely striking with the Brass Monkey wheels which have been upgraded to 11-inch wide versions out back and wrapped in 315 series tires to fill out the wheel wells perfectly!
Michael and Cindy Kuhno's 1940 Chrysler Windsor: This stunning '40 Windsor features a 331 cubic-inch Firepower Hemi under the hood that's been bored .030 over. It was upgraded with EZ Fast-EFI, MSD ignition, Howard Cam and Hot Head Hemi parts. Backing the Hemi is a 4-speed with overdrive. It also features upgraded Fat Man suspension, Sanderson DD3 headers, Flowmaster exhaust, Wildwood disc brakes and a jaw-dropping custom Raspberry Blend paint job!
Michael started the restoration in 1995 and finally got it on the road in 2004. He says, "Special thanks to my wife Cindy who at times came to my rescue not only as the third hand when I needed one but also for the encouragement, support, cold drinks of water, and of course Band Aids! Most of all for her love, outlook and support on things which gave me the courage to do this car. She also has a lot of great ideas that went towards the design of the car!"
Larry Forbes 1964 Plymouth Belvedere: If you love red, you'll love Larry's Belvedere! Built as a Super Stock tribute, Larry's slick Belvedere has a Hemi under the hood backed by a 4-speed transmission. The beautiful red bench seat interior is just as bright as the exterior! This is truly a body style that never gets old.
Erik Teigland's 2004 Dodge SRT-4: We're big fans of SRT-4s here at Mopar Connection and this one is no exception! Painted in Electric Blue, Erik's SRT-4 features a Stage 1 PCM, Borla exhaust with a catless down pipe, Depo LED tail lights, Gecko coil overs and a carbon fiber wrapped roof. Erik also has a couple different sets of wheels he runs on it.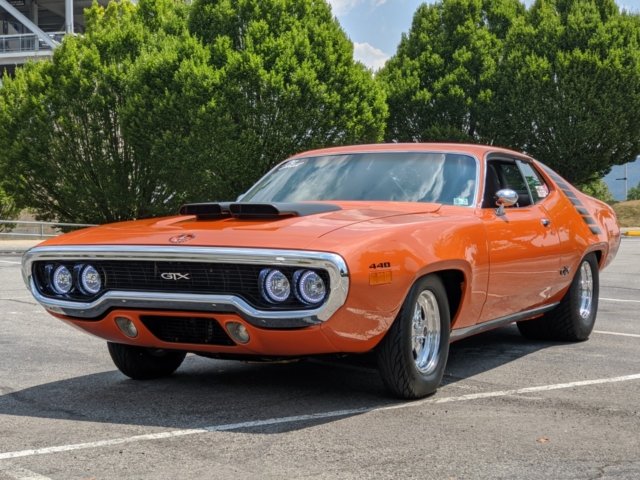 Dan Jordan's 1971 Plymouth GTX: Dan sent us this picture of his killer GTX from State College, PA. His GTX has been treated to the full pro-street treatment with a 505 cubic-inch big block under the hood backed by an automatic transmission. It's painted EV2 Tor Red with a Road Runner strobe stripe. An A-Body 340 dual snorkel hood scoop along with Weld Pro-Star wheels complete the look. Of course we can't forget the killer big and little staggered tires!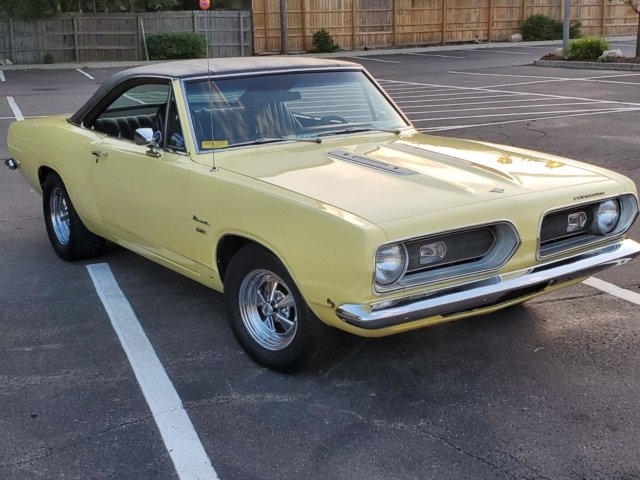 Daren Borza's 1968 Plymouth Barracuda: Our friend Daren from Mancini Racing owns this beautiful A-Body Barracuda. Painted in SS1 Sunfire Yellow, it's complimented nicely by a black vinyl top, black interior and vintage Cragar SS mags for a classic look. Daren tells us he came across the car back in 1997 while on a trip to North Carolina and bought it right away.
We invite everyone to submit a couple of pictures of their Mopar along with a short bit of information telling us about it. Every month, we'll publish a feature showcasing your submissions. There are no restrictions. Modern or classic, car or truck and everything in between. It doesn't matter if you have a Slant 6 under the hood or a 426 Hemi and it doesn't matter if you have a rough project or an OE spec restoration; we want to see them all! To submit your Mopar, please email info@moparconnectionmagazine.com.