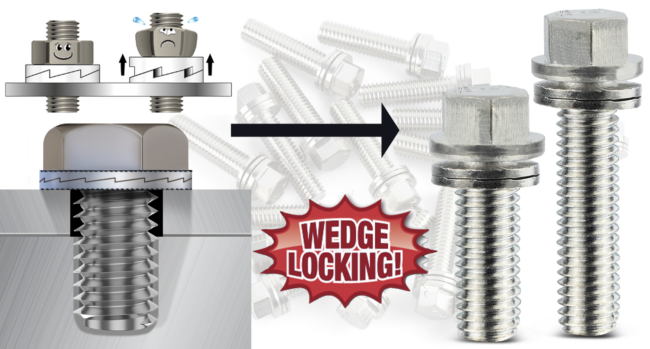 As a kid, the first thing you learn is the immediate performance gain that comes from swapping out those old rusty manifolds for a decent set of headers. Even if you were lugging around a worn-out 318, a second-hand pair of shorties would wake that small block up. But often the factory studs needed to go, and that spelt problems: almost without fail aftermarket header bolts would back out, causing obnoxious exhaust leaks. Well, consider that a thing of the past!
Proform's Wedge-Locking Header Bolts have been around for a few years now (in the black oxide form) and have proven their worth to street rodders, cruisers and high-end performance engine builders. The unique interlocking washer system ensures that once they've been torqued down, these header bolts ain't going anywhere – whether you're snugging down to iron or aluminum heads.
Now, Proform offers these bad boys in a brilliant Nickel Plated Finish. So if the black oxide is a little too drab for your engine compartment, these nickel-plated header bolts will be right up your alley. We did a video on the original black ones a while back (see video attached below). Otherwise, check out the original press release HERE:
A decade ago we introduced Wedge-Locking Header Bolts to the high performance aftermarket, and they have been a huge success. No janky tools, small parts, or blocking devices…just tighten them and you're good to go. We are now adding a new Nickel Plated Finish to our most popular vehicle applications, so now customers will only have to choose between shiny silver or black.
Applications (12 Bolts, 3/8″-16 Thread):
Chevy V6 & Small Block V8 265-400; Buick/Olds/Pontiac V8 before '79 ; AMC V8;
Chrysler B/RB Engines (excluding 413)
P/N-66827: Length: 3/4 in.
P/N-66824: Length: 1 in.
Applications (16 Bolts, 3/8″-16 Thread):
Chevy Big-Block 396-502 (excluding 348 & 409);
Ford 5.0L, SB 289-302-351W; Mopar 413
P/N-66823: Length: 3/4 in.
P/N-66825: Length: 1 in.
NEW! Application (16 Bolts, 8mm Thread):
Ford V8: 4.6 & 5.4 Liter; 2005 & Newer Modular
P/N-66826: Length: 1.181 in.
These bolts are in-stock and shipping!