It's literally been six months and 3 weeks since our last Project ZomBEE Update. That is just waaay too long for a consistent magazine project car. Frankly, folks were beginning to worry that we had dropped the car altogether (as magazines are wont to do). We've ran the roller coaster of emotions: excitement, enthused, inquisitive, curious, questioning, baffled, beleaguered, beaten, exhausted, exasperated and finally, total emotional divorce. Sitting here, staring out of the office window, it's a miracle the car is still sitting (unmoved, mind you) on the driveway at all. Not to put too fine a point on it, but the car is a basket case and we're unsure if it's worth trying to save, even today.
As documented in the previous update as well as in our introduction, our 1970 Dodge Super Bee  was first fished from a steel three-walled barn in Hebron, Ohio. Equipped from the factory with the standard 335-horsepower four-barrel 383 backed by a column shifted 727 TorqueFlite automatic, the 2-door post 'Bee was once covered in less-than-attention-grabbing Beige with Burnt Orange interior. A white C-stripe adorned the quarter panels before the ravages of 48 winters reduced them to flapping, rust-riddled sails. Back in its day, the 'Bee was a pretty milquetoast muscle car in both looks and performance. That's not to denigrate it, but to say a black-on-red 440 Six-Pack car might still have our wheels turning.
Rather, our khaki Coronet suffered both from all-consuming cancer throughout nearly every inch of its unibody as well as from tweaked-out Buckeyes who sawzalled various interior panels to hide drug paraphernalia. (Yes, we're not joking. The package tray and V-braces were cut out to climb into the trunk without being seen, as well as the inner structures below the pop-out windows, so someone could reach back between the door panel and backseat, and access a newfound pocket. When we took possession of the B-body, much of it remained intact: front and rear suspension, four-wheel drum brakes, the complete body (doors, glass, trunk and hood), wiring, dashboard and more.
Really, all that was missing was the powertrain, and we had plans to drop in a supercharged 426 cubic-inch G3 Hemi making about 900-horsepower. Well, that is until Mopar came out with their own crate motor, the Hellephant, which absolutely bulldozed the 2018 SEMA show. (We still want to build a blown G3 Hemi, but we're gonna have to step up our game if we're to beat what Ma' Mopar is offering – with a warranty, no less!). Considering the ballistic nature of the engine we wanted to plop between the shock towers, we knew going "full 'Roadkill'" on this car wasn't going to work. An engine producing far less than our projected mill would tear the car in twain, and that was a non-starter as well. So, we started cutting out the cancer. But the cancer kept coming…
The trunk floor was first. Then the trunk extensions. The rear cross brace. The rear tail panel. Trunk extensions. Wheel tubs. Lower quarters, both front and back. The rear window sill. The entire Dutchman panel. Package tray, of course. Much of it was already hacked out. The entire floorboards. The bottom half of the firewall. The bottoms of the front fenders. The rockers needed patching too. The dashboard frame was completely gone. The hood. The trunk lid's skid had separated from its stamped bottom. The bolts holding the upper A-arms needed to be heated extensively. The driver's side still has one cam bolt and a remnant of the A-arm still attached. Really, only the roof and doors were solid.
We joked with Tech Editor, Mike Wilkins that 80-percent of the bolts have broken off, snapped or stripped in the disassembly process. He wagered more. But we made progress. A replacement tail panel was procured from a diehard '70 Coronet enthusiast, who also purchased the rotting hood. He cut out the power bulge, scavenged what parts he could and sold the rest as scrap, from what we've heard. The Chrysler 8.75 rear differential, axles and drums were sold off as well. Actually, the car has paid for itself in just offloading items we weren't going to use (leaf springs, torsion bars, etc.). VFN Fiberglass returned to help, providing a replacement hood, '68 Hemi AO23 hood scoop and a deck lid – both pin-on.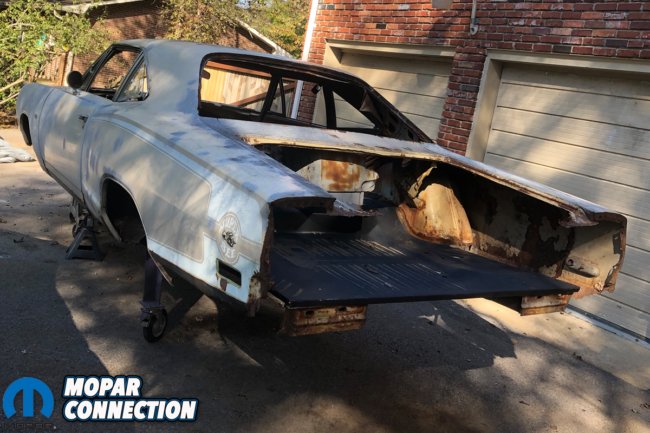 Equipped with a fantastic Millermatic 211 MIG, we started welding our Classic Muscle Metal-supplied AMD trunk pan back in. We had trimmed all of the steel at the seams, leaving ourselves factory-correct lines to fill – or so we thought. But nothing was lining up. We measured twice before drilling into the pan to make our fill holes along the frame rails. Those too didn't line up. Inside, we had laid the floor boards, and those didn't line up either. Initially thinking the stamping was wrong, we removed both the pan and the floors and remeasured those. They were square, as to be expected. The car itself was out of round. Decades of rust and us removing what little structure existed had allowed ZomBEE to relax.
"Well," we howled. "That does it. The car's toast!" Overwhelmed, we reached out to Bill Crabtree at the AMD Installation Center. Although capable of straightening the car and properly rebuilding it, he couldn't rightly give us priority placement over a list of customers nearly a dozen deep. Weeks passed and we opted to poll our Facebook readership as to what they'd like us to do. The vote was surprisingly split, with a slight majority encouraging us to ditch the Super Bee for a more complete car from which to start from. Admittedly, it was music to our ears. Then came an email from David Chamberlain, owner of All Classics Restoration in Statesville, North Carolina.
Personally unfamiliar with David's work, he gratefully forwarded a handful of pictures. The first was the most striking, what looked like a heavily tinted self-portrait of the photographer. What it was though, was far more impressive, the mirror-like reflection of David in a freshly painted, color sanded and buffed quarter panel of a first-generation Camaro. "What's your time frame? He queried. "Pfft. No rush. As long as we can get articles out of each step of the process, you can have the damn thing for over a year." Those words apparently were the right answer for David. "OK, yeah. I think I can do it for ya."
And thus ZomBEE was saved…well, at least from being sold off and replaced with something else. So there we have it. ZomBEE is not gone, but due to the completely corroded nature of the car, we simply couldn't throw a powertrain at it and hope for the best. Rather, it will be taken down, properly straightened, reinforced and rebuilt using brand new metal provided by Classic Muscle Metal, AMD and US Car Tool. David also really wants to paint it so we're debating on different color schemes. We might have two renderings created and allow you, the reader, to vote on which you like better. (We're stills like that.) We'll have more regular updates hopefully soon.