Tyson Pare of British Columbia, Canada was 16 years old when he purchased his first car; a 1975 Plymouth Duster. He tells us, "I wanted a Duster really badly and worked really hard in the hot sun over the entire summer to save up enough money to buy one. I found the 1975 and fell in love with it. I made enough to buy it so I did and I was so proud to bring the car home."
Tyson's new Duster was a total project as it had no engine and had seen some better days. He saw the potential in it though and intended it to be a project he could do with his dad. Unfortunately, finances weren't on his side so eventually he made the tough decision to sell it back to the fellow he purchased it from.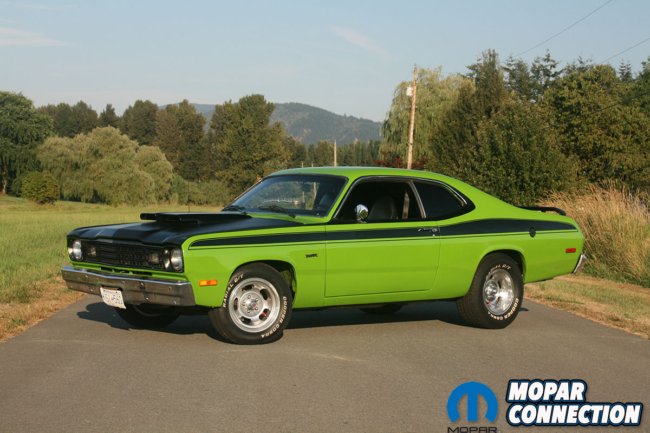 "I was heartbroken but it was the best decision at the time," he explains. Fast forwarding twenty years, Tyson worked hard building up his own painting business to where he decided it was time to replace that Duster. He says, "Over the years, that Duster was always on my mind. I always told myself that one day when my finances could afford it, I'd buy another".
After some hunting, Tyson came across another 1975 Duster for sale locally. The car was running and driving for the most part but needed quite a bit of love. The car had a "custom" matte gray and black paint job with red pin striping and someone had poorly bondoed a 1970 Road Runner hood bulge to the hood. It needed lower quarter panels, trunk extensions, a floor pan, replacement trunk lid and the bulk of the interior needed to be replaced.
Under the hood was the factory reliable 318 small block backed by an automatic transmission; typical Duster equipment. Tyson knew the car had good bones for what he wanted to do so he made the decision to buy it.
After bringing it home, he tinkered around with it and enjoyed it while sourcing out parts for the restoration. A replacement hood and trunk lid was sourced out from local Mopar guys and a factory 340 dual snorkel hood scoop was purchased for the car. Once he had everything he needed, he sent the car off to a local shop called Rick's Restorations to have the metal work done.
Once the metal work was completed, the car was taken to Julio at Back 40 Restorations in Abbotsford where it was painted Sassy Grass Green with custom 340 style side stripes and the 1971 Duster 340 V24 style hood blackout. Tyson painted the grille and rear tail finish panel black to match the stripes and then hand painted the Duster emblems Sassy Grass Green and black.
A 1970 Go-Wing was mounted on the trunk lid and the car rolls on a set of 15" polished US Mag Slot wheel with Cooper Cobra Radial GT tires (P215/65R15 out front and P275/60R15 out back). Once the paint was complete, Rick's Restorations did all of the work getting the car road worthy such as installing new brakes, shocks and exhaust.
On the inside, the interior was fully restored with fresh black seat upholstery, door panels, dash pad and carpet. Green Duster logo floor mats accent the interior to match the exterior.
Under the hood, it still retains its original 318 small block that has been dressed up a bit with an Edelbrock Performer intake manifold, Edelbrock four-barrel carburetor, Mickey Thompson valve covers and a chrome Edelbrock air cleaner. Tyson says, "The engine bay isn't anything fancy but it works well so I don't have many intentions on messing with the engine."