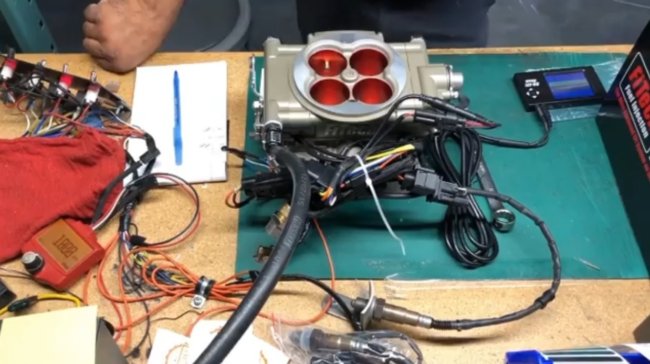 While most top-notch muscle car parts suppliers are at the forefront of the customer service industries, it can still be a massive frustration to tear open a brand new box of performance pieces and find that something has been made incorrectly or damaged. When the go-fast goodies show up at your front door, they need to work well and work right the first time.
FiTech showcased their efforts towards that end with a recent video of their incredibly thorough testing procedure. Every single one of their systems is bench-tested at their facility in Riverside, CA before final shipment. Even the handheld tuner and cable are verified before heading out the door. Aside from basic communication checks, the procedure includes pressure tests, ECU calibration tests, and sensor verification. A simple yet critical bench-top test rig incorporates an incoming fuel line, O2 sensor mount, and toggle switches for various sources of power and signal.
Once all systems are given the thumbs up, the inspector tags the unit and boxes it for transit to the customer. Even though it seems like a no-brainer to test product before shipping it out, we're certainly glad to see that FiTech takes the time to do so. This small but important step on their end makes sure that the hot-rodders receiving their EFI systems are absolutely happy with the purchase from delivery to driveway.