The cold weather, slushy roads and very few car related events during the winter months is the perfect recipe for any car enthusiast to end up like Jack Torrance in "The Shining." OK maybe not quite that mad, but we all get that itch of wanting to get your car out for a nice cruise but can't due to the weather conditions. The one benefit of this down time is knowing we can't get the car out and drives us to the garage to finish projects, maintenance or upgrades. During that time you might come across parts or pieces that you can't find on eBay or Craigslist. Well there's no better swap meet to find what you need during the winter months than the Indy Cylinder Head Chrysler Performance Show and Swap Meet in Indianapolis, Indiana. This year was no different and had plenty of great items to offer Mopar fans.
Each year in early March, Indy Cylinder Heads puts on a Mopar only show and swap meet that you shouldn't miss. Moparians swam the Indiana State Fairgrounds searching for miscellaneous parts, cars, memorabilia and many other items that cover the floors of the Elements Blue Ribbon Pavilion and Champions Pavilion. You'll see many great rides and most of which are for sale. Among the many lots of individuals selling their left over parts or barn finds, there are many vendors that come to provide new parts and help save the cost of shipping big items.
We made our way through the show on Sunday, which we found out is not as crowded as it is on Saturday. It made is a lot easier to navigate the show without bumping elbows. The downside of not showing up Saturday is the gamble of missing out on great deals or specific parts since some sellers pack up that night. Even so, there were still loads of great deals and plenty left for us to see. From experience, Sunday can also net you some great deals by saving the sellers from packing parts back up to take home.
As we strolled up and down each isle we were amazed at the various parts and pieces you see. One spot would have an ultra rare Six-Pack intake with factory carbs and the next would be NASCAR small block parts. You never know what you may come across at the swap meet. We spoke with individuals from all over the map. Some drove from Iowa, Pennsylvania, Kentucky and a couple guys drove all the way from Florida! They mentioned the weather was a little nicer in Florida but they love coming up to the swap meet every year. We understand that people may travel for some big events like Mopar Nats, but hard to believe the same enthusiasts travel just as far for a swap meet.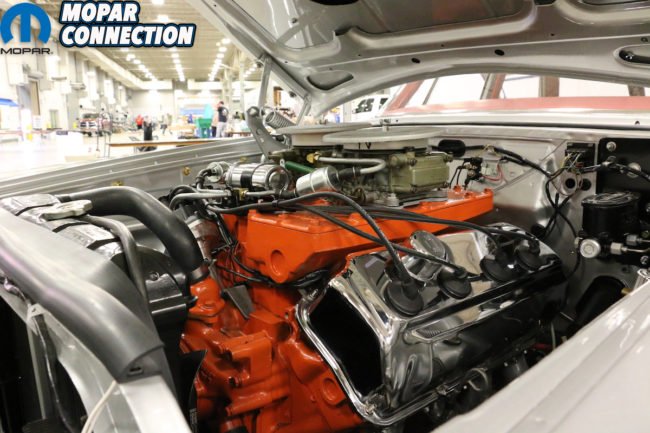 We continued our travels throughout the maze of parts, spotting a ton of great parts especially engine parts. Whether you were on the hunt for small block, big block or Hemi parts, there was an abundance of motor parts. From blocks, intakes, rotating assemblies, heads you could find it. We stumbled across multiple sets of 7 pistons and rods that were great buys if you happened to have the matching 8th. If you were in the market for a turnkey motor Indy Cylinder Head had about every combo you could ask for on display. Whether you're wanted a blown Gen II Hemi, stroker big block or a mild small block, they had it. With various pricing on complete motors, you could also pick up pieces and parts if you were looking to build your own.
While wandering the swap meet we noticed a variety of body panels all of which ranged in condition from near perfect to major overhaul. The only dreadful part of purchasing large items like body panels is your stuck carrying these giant pieces with you the rest of the day. Of course it would be perfect to find the body panels you need at your last stop but normally it happens the exact opposite and you find it with in your first couple booths. We have found that most sellers are reasonable people and will allow you come back and pick up your parts later.
We stumbled across two different sellers that had some original 1964 lightweight Dodge aluminum fenders for sale that would be little easier to carry around but a little harder to swallow the price which varied from $3,000 to $8,000. There was one spot that had an interesting way of how to sell body panels and parts which insisted of labeling each part on the whole car with a price and description. This is a good way to display the parts and lot easier for someone to unload and reload everything at once.
If used parts are not your forte, there were plenty of vendors selling new parts to fill your needs. From past experience, if you ever need big parts that cost a lot to ship, now is the time to take advantage of picking up your parts at the show. You can plan ahead and give companies like Mancini Racing and Stephens Performance a call before the show to make sure they bring the parts you need with them to the show and save you the shipping costs. By ordering big body panels or overweight items such as a rotating assembly, you can save hundreds or more. Not to mention there is no worry of parts being damaged during the shipping process and to boot many vendors had show specials to save you even more.
Although most enthusiasts were at the show looking for cars or parts, we came across a lot of other random Mopar items. Besides the normal booths set up with Mopar specific die cast replica cars and signs; there were many other items that would also look great in any garage or man cave. There was a Mopar drink dispenser, Gen III Hemi coffee table, old Dodge new car promotional books just to name a few. Many car parts like single valve covers, broken grills, miscellaneous old pro stock parts, etc. could be bought cheap and make great wall art.
With limited space available, there isn't a lot of room for show cars and many of the cars you'll see will be for sale. A local dealer had a 2017 Challenger 392 Hemi Scat Pack Shaker, 2017 Hellcat Charger, 2017 Jeep Wrangler and 2017 Ram 2500 on display for everyone to check out. The red Challenger was stunning with its new decals and shaker hood. While the Ram was supporting a 6.7 Cummins engine that could pull the building down and the Wrangler with aftermarket wheel and tire package that looked like it could go anywhere. Our favorite was the devilish Hellcat Charger in Destroyer Grey. The car looked mean and how do you not love 707-horsepower?
Moving on from the modern Mopars, there were many vintage Mopars that could be bought. Whether you were on the search for a new project or a turnkey driver, there was a wide selection. With some many unique cars it's hard for us to pick out a favorite. For a street-ready cruiser, the 1977 Charger Daytona with a 400 or a 1970 Road Runner wagon with a 383 were both great buys and not to mention would get a ton of attention anywhere you drove them. If a racecar project suited your needs there were many great candidates but the 'Cuda supporting full cage and big slicks would be our pick. If you wanted some real muscle the 1964 Plymouth Sport Fury packing a 650-horsepower big block stroker form Muscle Motors and fresh Dana 60 rear in the back was the ticket and only priced at $25k!
As we watched many people pack up throughout the day to make their voyages home, it was time for us to do the same. The Indy Cylinder Head Chrysler Performance show was a success for many. Each year the show brings in the spring and lets us know that winter is almost over. Gives us all one last chance to get the parts we need to finish up for the upcoming car show and race season. We cannot wait for summer to be here and the countless shows that come along with it.