On Sunday, July 9th, we attended the 30th Annual Mopar Madness show in Langley, British Columbia, Canada. Usually held on the second weekend of July every year and put on by the Vancouver chapter of the Mopars Unlimited Car club, it's proudly known as one of, if not, the biggest Mopar show in Western Canada.
As far as car shows go, this is a must attend event for us. We haven't missed a show since 2005. Unfortunately, like with most things, Covid prevented the show from happening in 2020 and 2021. We were worried about the show coming back after the two year hiatus, but the club promised it would be back for 2022 in which it did.
The show has always attracted a very strong showing of classic Mopars and since around 2005. It has also attracted a very high number of modern Mopars as well. Almost every year the show has been treated with exceptionally good weather.
The show organizers usually get treated to good weather on the day of the show with weather usually being sunny and hot. While the weather wasn't the greatest a few years back, it's been consistently good the past few years and this year was no exception.
During the past few years of the show happening, we noticed the numbers had been slightly down in some of the classes, especially the E-body classes. When we first started attending this show back in 2005, there were rows upon rows of E-body Challengers and 'Cudas. Since around 2012, the numbers of E-bodies showing up started to decline.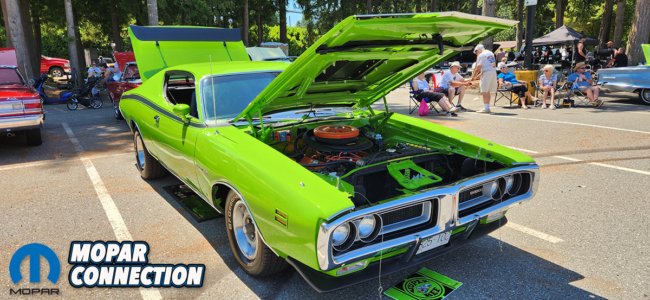 2017 had the worst turnout for E-bodies, with only two Challengers in "E-body Dodge stock," two Challengers in "E-body Dodge modified" and three 'Cudas in "E-body Plymouth Modified." Not a single one was entered in "E-body Plymouth Stock" which was very surprising.
However in 2018, numbers seemed to be on the up and up as E-bodies started to turn out in good numbers. The numbers have slowly started building again and this year's show was the best in a long time in our opinion for turn out and variety of vehicles. The official number for this year was 205.
Besides the E-Bodies, A-bodies and B-bodies showed up in higher numbers as well, and the modern classes had some of their best showings to date. A lot of the classes were packed this year, which we were very happy to see as it keeps the strong momentum of this show going; even after 30 years!
Last year, the club decided to do the 2022 show a bit differently with regards to voting and judging classes. After some snafus with that system, we were very happy to have the voting and classes back to the tried and true ways previous to 2022 for this year.
This year we decided to celebrate the 30th Anniversary of the show with a bang and brought our 1970 Challenger R/T, 1971 Super Bee, 1973 Gold Duster and 2008 Challenger SRT8 to the show. The show this year was also dedicated to previous club president Ray Myles who sadly passed away in May.
If you live anywhere in Western Canada or the Pacific Northwest of the United States, you have to come to this show at least once. It's a show we at Mopar Connection Magazine have marked on our calendars year after year and one we will never miss. We already can't wait for next year's event. We'd like to extend a huge thank you to Jim Miki and everyone at Mopars Unlimited for putting on another fantastic show.