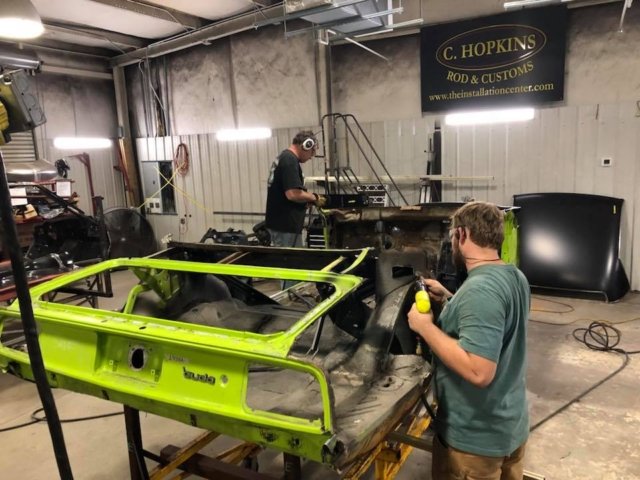 These days, there is no such thing as too far gone. That's because top-notch shops like Classic Muscle Metal (CMM) are using high-quality reproduction parts from places like Auto Metal Direct to take a stand against our common enemy; sheet steel oxidation.
Check out the latest pictures of a '70 'Cuda project on their Facebook page. That's right, one picture shows nothing left except the roof frame, torsion bar support, front frame rails, and radiator support. Everything else was hacked with nary a concern. Precision frame jigs allow them to cut away every single piece of rotted steel and replace it with brand new iron.
Classic Muscle Metal is a one-stop-shop for anyone with a '69 Charger that sat in the weeds for too many years or a '71 'Cuda project car that ended up being rougher than expected. If you're a DIY guy, they can hook you up with the latest available replacement panels at a discount. Sure, you can get parts from any old online store but CMM and their shop, the AMD Installation Center, can provide technical support to make sure your money isn't wasted on an incorrect installation.
Getting ready to dive into a pair of quarter panel replacements? Give them a call. Chances are they've done it at least twenty times before and know all the tricks. This year alone, they've overhauled more than ten Charger bodies!
For the guys who want it done quick and, more importantly, done right, CMM's AMD Installation Center is the Holy Grail. Just send them a stripped down rust-bucket and they return a fresh, clean shell, ready for you to slather it in paint and bolt on the go-fast goodies. And you don't have to worry about chicken wire and body filler stuffing the lower quarter panels. Because they only work on classics, they care about these cars like you do and, since their name is on the work, they have every incentive to do it right.
Are you looking at a new project but curious about how much coin a roached-out shell would cost to fix? Hit a tough spot replacing your crusty floor pans? Give Classic Muscle Metal a call for free at 844-275-9254 or check out the online estimator at www.amdinstallation.com.