As if Tesla weren't polarizing enough with its battery-powered vehicles, sky-high stock price, and eccentric CEO, high-powered hot-rodding minds like that of Kevin Erickson are starting to use Tesla tech to make a whole lot of classic car purists' heads spin. Project Electrollite, Kevin's 1972 Plymouth Satellite, is making a name for its self as the first-ever Tesla-swapped Mopar muscle car. When curious car guys pop the hood on this silver beauty, they won't be greeted by a lowly 318, a built big-block, or even a fuel-injected Hemi swap. Instead, a big ol' battery pack will be there to hastily explain the stealthy hush that this onetime gas-guzzler recently acquired.
Coming off a turbocharged 1969 Dodge Dart build, Kevin was looking for a different challenge when he came upon the Satellite. "I've been a Mopar guy my whole life. This is a fuselage Plymouth [and] probably my favorite body style. I wanted to drive my favorite car. Why not have your favorite car out on the road?" he says of the meaty B-body.
The list of potential powerplants included another turbo small-block and a modern Hemi swap, but neither really scratched his innovative itch. Still fresh in his mind were the "always another exhaust leak" and fine-tuning aspects of a turbo engine, so that option left the table pretty quickly. A G3 Hemi would've been cool, but even those are getting to be a little vanilla. Instead, he went way off the board with a Tesla Model S Ludicrous drive unit from Stealth EV.
The benefits to muscle car electrification are several, including a massive amount of on-demand torque and the eradication of eye-watering exhaust that can come with a fossil fuel-fed V8. One big draw for Kevin was the virtually infinite number of charging methods. "You can charge this thing with any fuel I've ever known. It could be hydro, could be wind, could be solar, could be diesel, propane…you can make electricity with anything," he says of the possibilities.
Luckily, the Satellite was super solid so Kevin was able to start right in on the conversion instead of being barred in body jail. "I bought it from the son of the original owner who was a body man and he'd just painted it before I bought it," he explains. New quarter panels were part of that work along with a slathering of silver.
A set of USCT Motorsports frame connectors were added to help the unibody cope with its upcoming exponential gain in torque. Some frame holes required patching but, overall, the big B-body was well-protected by a generous helping of factory undercoating.
The original 318 engine, 904 transmission, and 8.25" rear end were stripped to make way for the Tesla drive unit out back and Gerst coil-over suspension up front. For the uninitiated, Tesla's rear drive units are designed much like that of a late-model rear-wheel drive Challenger or Charger.
A standalone cradle bolts to the frame and houses the independent suspension, brakes, half shafts, and differential. The difference, of course, is that there's an electric motor/inverter combination on board, also tucked within the confines of the cradle. It's not unlike a front K-frame in that with four mounting bolts removed, the entire assembly can be dropped out from underneath the vehicle.
The compact packaging of the Tesla unit is really what made the swap feasible and, once Kevin started fitting it within the frame, the mating looked like a match made in Mopar heaven. Clearance notches were cut in the framerails to make room for the rear sway bar and upper control arms. With everything loosely positioned, Kevin drew up some custom 3/16" mounting brackets in Fusion 360 before cutting them on his Langmuir Systems Crossfire CNC plasma table. Squaring the cradle via the front leaf spring mounts helped position bracketry for final fitment.
Fitting the cradle was actually relatively easy compared to the rear suspension setup. Since there wasn't room for the factory Tesla struts underneath, Kevin had to get creative with a trunk-mounted pushrod suspension system. The basic mechanics include a large pushrod that attaches to the lower control arm on one end and a bellcrank on the other. The bellcrank transfers the pushrod's motion to a remote-mounted set of coil-over shocks. It's a common system to see in open-wheeled race cars because of the compact packaging which is why it worked so well in the Electrollite application.
"Starting with a cardboard bellcrank and a nice screwdriver pivot, I started to figure out the size and the alignment of the bellcranks," says Kevin of the R&D process. Telescoping tube took the place of the coil-overs in the trunk until all the motion math was finalized with some help from a trusted suspension specialist. "Carl Gerst is a super great guy. […] He even helped with my rear suspension which he didn't sell me. I gave him some of the geometry numbers and he helped me figure out my spring rate and ordered the shocks for me, so big shout out to Carl."
The Gerst front end was a little more conventional aside from Kevin's retrofit of an EPAS Performance electric power steering rack.  "EPAS Performance [is] by far the best in the electric power steering right now. They have the biggest motors. This is an original OEM part that's been adapted," he explains. The electric assist is necessary without an engine-driven hydraulic pump. Similarly, vacuum for the power brake booster is supplied by a small electric pump instead of the intake manifold of a big, stinky V8.
Other than vacuum supply, brake components are pretty run-of-the-mill. Wilwood discs are up front and the Tesla drive unit came equipped with its own set of rotors and calipers out back. "It has two calipers, one hydraulic [and] one electric which acts as the parking brake and emergency brake." A pair of one-touch power window modules control parking brake function. Line-lock for the front brakes will keep roll control in the staging lane in check. "With the Tesla power unit, you can't really power-brake. So, if you want to heat up the rear tires, you need the line-lock system," says Kevin.
Heating up the heart of the project is a 100 kilowatt-hour Tesla battery pack. Ten battery modules rest in custom-built boxes in the engine bay while another six will reside in the trunk. Kevin was able to add some simple square tube mounts to the Gerst tubular K-member to mount the front box as low as possible. Consisting of a lower section with six modules standing up on edge and an upper section with four lying flat on top, the beefy battery box is constructed from 1/8" aluminum sheet with ½" angle riveted inside for rigidity. Total battery weight over the front wheels will be around 900 pounds which isn't that much more than a fully-loaded big-block.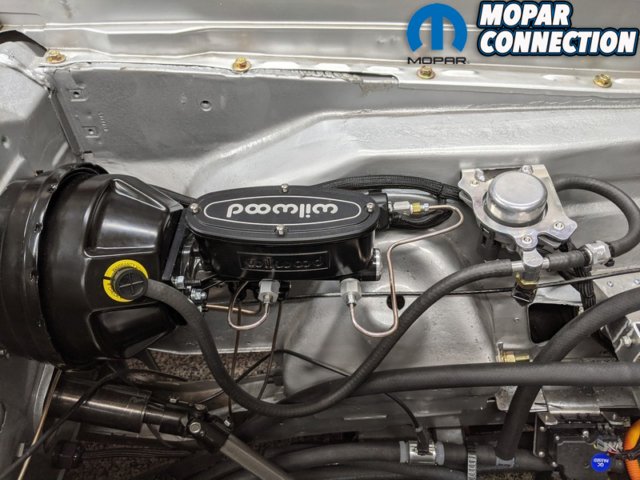 Battery management comes from Stealth EV and includes thermal control along with voltage and current monitoring. Mounted under the package tray in the trunk are the necessary components like high-voltage DC contactors for the electric heater core, battery heater, and air conditioning, a DC/DC converter to charge the 12V battery, and a bright orange box that houses all of the high-voltage power.
With all that amperage pulsing through miles of wiring, the coolant system required a complete redesign to keep heat at bay. Radiator modifications included removing the transmission cooler and adding an offset partition to the tanks. "The motor will use the smaller side, the batteries use the bigger side, and I've got threaded inputs and outputs that will feed the pumps," says Kevin. The fan shroud was also modified so both fans could be mounted on the lower half of the radiator for battery box clearance.
Batteries work best at optimum temperature, so there's a factory Tesla heater in the loop as well. "When it's heating, it will bypass the radiator [and] bring the batteries up to temperature. Once they're at a preset temp., it'll shut it back down." Critical electrical functions like that are driven by point-and-click programming in a RacePak SmartWire power distribution module.
This kind of bulletproof coolant control is important to keep the batteries alive for the long haul. "Keep the batteries at 80 degrees or as close to it at all times. The motor, on the other hand, it can run super hot and so a smaller radiator will be plenty for the motor. Keeping the batteries healthy is my biggest concern," Kevin says.
Obviously, the retrofit has required a host of new components, but Kevin continues to try to keep it simple. "Along this whole process, I've tried to not drill as much as possible." For example, the controller for the electric power steering unit conveniently fit right where the original bulkhead passed through the firewall. Holes that used to house body plugs in the trunk extensions were repurposed for inverter wiring grommets.
The J1772 charge socket fits right behind the license plate where a fuel filler cap used to reside. Any space or hole that could be repurposed, has been. Kevin even employed the help of a 3D printer for custom speaker adapters, hose mounts, and coolant pump brackets.
With a few months to go before Electrollite is out on the road, mountains of remarks are still pouring in via forums and YouTube. "I have as wide a range of comments as you can imagine, everything from, 'I love it, OMG' to, 'burn in hell, it's a sacrilege.' So, I love all the comments."
Those quips add fuel to the fire, but a clear vision and steady progress are what will end up seeing this retro revitalization through to completion. Kevin's biggest piece of advice is highly functional and fits this build to a tee: "Just come out here. Show up, even if you don't have a plan. If you've got a big project, show up. Do something. If you do one thing, that's one thing less to do and it usually leads to something else."