FlowFX, by Flowmaster, has introduced a new cat-back exhaust system (part no. 717892) for the popular Jeep Cherokee XJ. The FlowFX exhaust is designed to work with 1986-2000 2.5L engines and 1987-2001 4.0L engines, and the cat-back system will fit both two-wheel and four-wheel drive Jeeps. The exhaust is also suitable for both two- and four-door designed XJs.
The FlowFX exhaust uses stainless-steel mandrel-bent tubing, which provides a durable, unlimited free-flowing exhaust. Flowmaster created a 2.5-inch straight-through performance muffler for the Jeep to provide a deep, muscular exhaust note. The muffler attaches immediately behind the catalytic converter and just before the two-piece tailpipe assembly.
The FlowFX exhaust is tucked tightly to the Jeep's undercarriage to limit any exhaust pipe exposure and possible damage from rough off-road terrain. At the end of the tailpipe is a polished 3-inch stainless steel tip. All the FlowFX exhaust components utilize the factory exhaust hangers. The kit includes all the necessary hardware for the installation, which includes exhaust band clamps rather than U-bolts to secure all the tubing.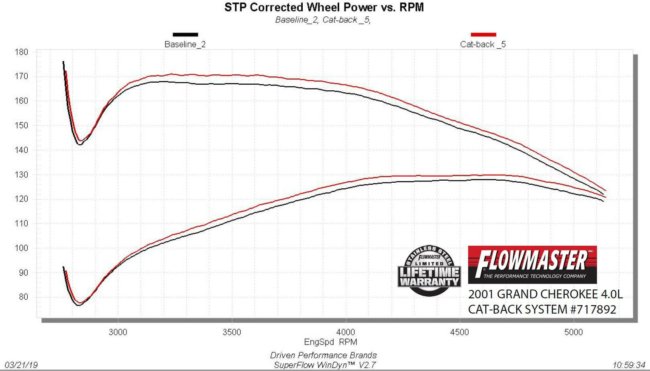 The Flowmaster FlowFX exhaust kit can be installed with the use of basic hand tools and the Jeep on jack stands. FlowFX provides a comprehensive instruction booklet, and the kit comes with a limited lifetime warranty. This exhaust is legal for sale or use on emissions-controlled vehicles, uncontrolled (non-emissions controlled) vehicles, and racing use only vehicles because it does not affect vehicle emissions and is not covered by emissions regulations.
Is it time to update that old rusty exhaust on your XJ with a new cat-back system from FlowFX? We think it is. Your Jeep will not only benefit from a good looking, quality fitted exhaust, but it will experience a bump in torque and horsepower at the drive wheels, and that is never a bad thing.