Few automakers have the kind of brand cache that Jeep has amassed since its foundation in 1943. When the original civilian CJ-2A models started rolling out of Willys' factory in 1945, it soon found a market with ranchers and farmers who needed a basic, lightweight vehicle with four-wheel drive – a relatively new technology in automobiles produced for the general public – to handle rough roads and unpaved trails, and its 5500-pound tow rating also made it a feasible substitute for pickups of the day.
But more than the virtues of its utility, the Jeep name as become synonymous with "go anywhere" freedom – a vehicle that can eschew the beaten path on a whim, something that can take you to parts unknown and put distance between you and the status quo. A lot has changed over the decades, both in terms of Jeep's products and the world around them, but that capability has remained a core component of the brand's identity, and that's something I came to really appreciate on a whole new level during my time with the 2020 Gladiator Mojave.
When I was originally given the opportunity to test the Mojave, the plan was to meet up with Jeep representatives and a group of journalists near end of March in Ocotillo Wells, California, where we'd put Jeep's first-ever Desert Rated machine through a battery of tests in varied off-road terrain before hopping back on pavement and trekking to Palm Springs.
But between early February and mid-March our collective worlds were turned upside down, and Jeep quickly nixed the idea. Instead, they decided they would deliver these new trucks directly to journalists a few weeks later to test on their own over the course of a couple of days. At that point my plan was to take the Gladiator Mojave to Hungry Valley State Vehicular Recreation Area, a venerable smorgasbord of four-wheeling delights about an hour north-west of my home in Los Angeles.
Then, just a few days before the Mojave found its way to my doorstep, this happened. But after a moment of panic it occurred to me: this is a Jeep, after all. What better way to put that reputation to the test than to find an unsanctioned alternative?
After a few calls to some well-informed enthusiasts, I'd put together a feasible Plan C: we'd instead head north-east toward Hesperia, where I was promised a network of trails which were un-monitored by Uncle Sam. We'd be out there without any sort of babysitting, entirely in charge of our own paths and well-being. Although that came with no small sense of responsibility given our current circumstances, it also sounded like a welcome break from the new norm.
You'd be forgiven for dismissing the Mojave as some sort of glorified appearance package for the Gladiator Rubicon. But while the two models share quite a bit, both aesthetically and mechanically, the tweaks actually go much deeper.
Jeep's Trail Rated designation is well known by now, denoting that a vehicle has passed the automaker's testing criteria in traction, water fording, maneuverability, articulation, and ground clearance. Desert Rated is something entirely new, though, and the Mojave is the first Jeep model to ever wear the badge.
Unsurprisingly there's a bit of overlap, but there are also some key differences – here the badge-worthiness is earned through ride control and stability, sand and dirt traction, ground clearance, maneuverability, and desert prowess. To that end, the Mojave scores a set of Fox 2.5-inch internal bypass shocks with remote reservoirs at all four corners, Fox hydraulic jounce bumpers up front, a 1-inch front suspension lift for more suspension travel, and a half-inch wider track than the standard Gladiator.
The Fox damper combination is a first for the industry, designed to provide ride compliance during regular on-road driving and typical off-roading maneuvers, while the hydraulic jounce bumpers serve as a secondary pair of shocks to provide additional damping force when needed, preventing the front end of the truck from bottoming out when the truck goes airborne or tackles a series of whoops at high speed. Jeep further bolstered the chassis by switching to cast-iron steering knuckles, upgrading the axles, and reinforcing the frame.
The Mojave is also outfitted Jeep's Command-Trac four-wheel drive system and 2.72:1 transfer case instead of the 4.0:1 Rock-Trac system used on Rubicon models, a move which prioritizes speed and response over outright rock crawling prowess in accordance with this particular application, and it means that while the Rubicon is limited to 30 mph in 4-Low, the Mojave can reach speeds of up to 50 mph.
Even with the less-urgent crawling gear, the Mojave's crawl ratio of 52.6:1 with an automatic transmission (or 57.3:1 when equipped with three pedals) is among the most aggressive on the market today. A locking rear differential comes as standard, as does Off Road+ mode, which dials in the throttle response, transmission shift points, and the traction control system for better response when tackling challenging rock sections or climbing over sand dunes in 4-Low.
The 3.6-liter naturally-aspirated V6 from the standard Gladiator models is unchanged in the Mojave, offering 285 horsepower and 260 lb-ft of torque, and buyers can choose between an eight-speed automatic or a six-speed manual transmission. Either combination gets you a towing capacity of 6000 pounds and a max payload capacity of 1200 pounds.
In terms of aesthetics and content, the Mojave differentiates itself from the Rubicon with unique 17-inch wheels that are paired with 33-inch Falken Wildpeak all-terrain tires (mud-terrains are available as an optional upgrade), a hood scoop with a removable block-off plate, orange tow hooks, and requisite Mojave decals, while cabin scores orange accents and more aggressively bolstered front seats. All in, it's actually a pretty comprehensive desert-tuned package that comes in at a base price of $43,875, though loaded examples like my tester can easily crest the $60K mark.
Anxious to see what that kind of coin gets you in Jeep's latest truck, I pointed the nose of the Mojave toward the 210 freeway and headed east.
Jeeps tuned for off-roading have never been known for their outstanding on-road manners, and it's unlikely the Mojave will do much to change that. It's not all bad news, though – due to its long wheelbase and desert-tuned suspension, the Mojave's ride quality is surprisingly good around town for a 5000-pound truck with solid axles. Get it out on the highway, though, and some of the compromises start to become more evident, as the wayward steering has a noticeable dead spot on center that requires your constant attention.
I'm generally an advocate of manual transmissions, so discovering that my test truck was outfitted as such seemed like a particularly rare treat in something like this. But I also feel like there's a good case to be made to spring for the automatic here, a $2000 option.
While the clutch engagement is a bit vague and fairly high in the pedal travel, but the bigger issue is that sixth gear is so tall, the truck will actually begin to slow down, even unladen at wide-open throttle, if you come across a big hill with a moderate grade at highway speeds. The V6 simply doesn't make enough low end torque to overpower the truck's mass and fuel-conscious ratio in top gear, and that equated to frequent downshifts just to keep up with the flow of traffic during our journey out to the trails.
But with heated leather seats, Alpine premium audio, and an 8.4-inch touchscreen infotainment system with Apple CarPlay and Android Auto, the cabin of this highly optioned Mojave was far more posh than you might expect from a Jeep tuned for high-speed desert blasts. Still, the wind and tire noise afforded by this truck's soft top never really lets you forget what this thing is ultimately all about.
An unceremonious departure from the desolate tarmac just off of highway 15 announced our arrival at the entry point of this unmarked trail. Not knowing exactly what to expect from the uncharted terrain, I shifted the transfer case into 4-High, and any shortcomings that the Gladiator Mojave had exhibited in the civilized world became irrelevant in an instant.
Although it's tuned for blasting through the desert, the Gladiator Mojave's capability in low-speed off-road maneuvers is still awe-inspiring. Its ground clearance, approach and breakover angles actually exceed that of the Rubicon (here 11.6 inches, 44.7°, and 20.9°, respectively) due in part to the Mojave's front end lift kit.
It does require a bit more effort hustle it up a steep, rock-laden incline on some occasions though, as the less-aggressive crawl ratio makes you work to the find the torque, which can be challenging if you find yourself in the wrong four-wheel drive mode for the job at hand while also trying to be graceful with the clutch, as I did once or twice. Busting out the big guns – 4-Low and Off-Road+ mode – instantly annihilated any of that struggle, however, and it seems like you'd be hard-pressed to differentiate the rock-crawling capability between the Mojave and Rubicon in all but the most extreme scenarios.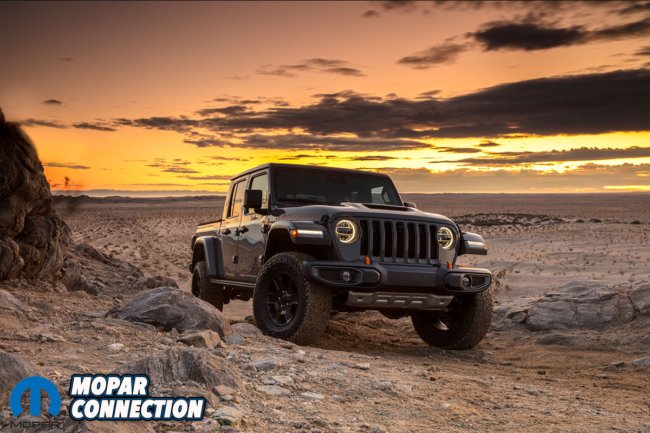 But that's just ancillary to the Mojave's primary focus. What this truck really wants is an array of obstacles to dispatch at pace, so when we found an accommodating section of the trail, I ran the gauntlet in a loop, increasing speed with each pass. The faster I went, the more in-line with the suspension tuning I became, eventually finding the sweet spot where this trick damper setup would keep the truck settled as the suspension absorbed whoops and impacts from my occasionally-airborne shenanigans. Testing the Mojave's worthiness in proper sand dunes may have to wait until off-roading is no longer a clandestine operation, but this time out on the trail provided some pretty strong indications that it will shine in that context as well.
On the way home, the truck's mud-splattered bodywork almost seemed like a badge of honor in these locked-down times, evidence that Jeeps like Gladiator Mojave are still very much capable of blazing their own trails when necessary. And even though it's likely that a significant portion of would-be owners will never exploit the full breadth of capability that a pickup like this has to offer, perhaps now more than ever before, it's nice just to know it's there if you need it.