Whether it be restoration parts or aftermarket performance parts for both old and modern Mopars, Mancini Racing has it all! The team at Mancini are proud to call themselves the "Original Mopar Direct Connection Warehouse" and stock just about everything you would need for your Mopar. They are always working hard to release new products in both their restoration and performance parts catalogs. They truly cover everything from engine parts to suspension parts and everything in between.
The team at Mancini Racing are proud to offer a great selection of leaf spring shock plates for all types of applications whether it be stock or race.
Part #: MRE35500:
When you are restoring your Mopar muscle car with either an 8 3/4 or Dana 60 rear end with 3″ tubes, you'll need these factory style plates with the shock stud attached. Quite often we find the original shock studs get broken or have to be torched to get them out during disassembly for a restoration so these pieces are perfect replacements.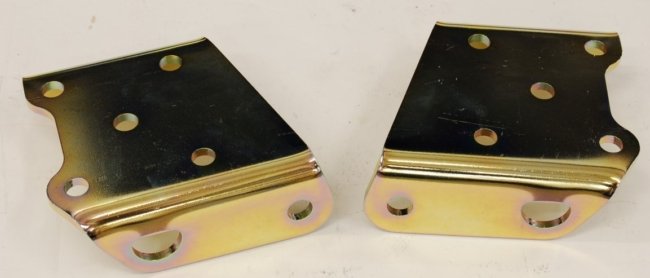 Part #: MREAR434:
These stock style AR434 plates are a replacement shock plate designed to accept the bolt in shock stud from Mancini Racing. The MRE 35511 shock stud bolts, or welds, onto this plate to provide the proper shock mount. The MRE shock stud can be turned down to work with a shock that has a smaller eye size such as the Koni shocks. The AR434 shock plates have a built in tie down eye and are made from 0.250 thick steel. Please note, shock studs are not included with these brackets but are available for purchase.
Part #: MREAR431:
Mancini Racing's AR431 plates are a race style shock plate kit complete with weld on double shear shock mounts. The weld on shock mounts use a 1/2 inch diameter bolt as the lower shock mount. The lower shock mount holds the shock on each side (double shear) rather than the stock pin style mount. The shock mount is loose in the kit and needs to be welded into the correct location to provide the proper shock travel for the car. Please note, shock studs are not included with these brackets but are available for purchase.