When the first retrofit electronic fuel injection (EFI) kits made their way to the market, many came equipped with a simple frame-mounted electric pump for fuel delivery. Back then, it was the quickest and cheapest way to ramp up to the high pressure required by injectors at a time when most muscle cars were still making due with a carburetor and mechanical pump.
As EFI has evolved, so have fuel feeding options. In-line gerotors continue to be phased out along with their inherent noise and susceptiveness to the elements. In their place has been a wave of tank-mounted pumps, but even those have been developed into turn-key packages like Aeromotive's Gen II Stealth fuel tanks.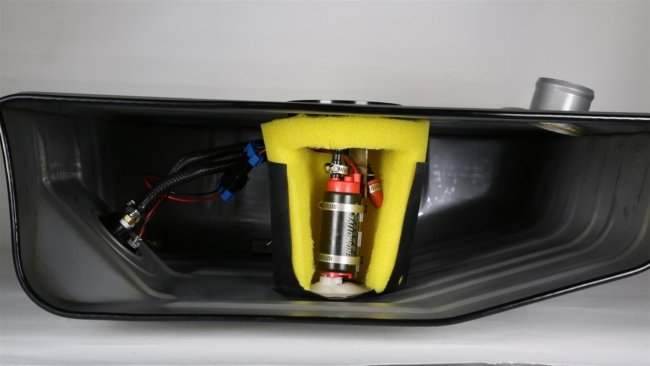 The benefit of a Stealth tank, as evidenced by its name, is its ability to fit into a factory tank location for easy plumb-and-go installation of high-pressure fuel. Unlike competitors' tanks that require a recessed area on top with difficult-to-reach connections, the Stealth tanks feature ports and terminals in the OEM location for ease of access.
Packed inside are a quiet Phantom fuel module, baffling to control fuel slosh, and a 0-90 ohm level sending unit. 200 liters-per-hour (LPH) and 340 LPH pumps are available to support a naturally-aspirated 600 and 850 gasoline-injected horsepower, respectively. With pressure regulated down for carbureted use, those support numbers jump to 750 and 1,000. All components are E85 safe as well, although that fuel's volume requirements will derate the horsepower numbers some.
Applications include the 1970 – 1974 Plymouth Barracuda, 1970 – 1974 Dodge Challenger, 1968 – 1970 Dodge Charger, 1971 – 1972 Dodge Charger/Plymouth Road Runner, 1968 – 1969 Dodge Dart, 1970 – 1976 Dodge Dart/Plymouth Duster, 1966 – 1967 Dodge Charger/Plymouth GTX, 1964 – 1965 Dodge Polara, and 1970 Plymouth Road Runner.
All are available at Summit Racing and come fully assembled; it doesn't get any more plug-and-play than that. Furthermore, with connections at the OEM location, ample clearance is almost a guarantee for a multitude of delivery configurations, most of which are detailed on Aeromotive's website. It's point-and-click plumbing and pressurization.